Our history
We have derived from our history a strong foundation to build a better present and we look forward in the future to continue succeeding as industry innovators.
---
CMC INDUSTRIES was founded with the name of CIEMME CALABRIA in 1972 by Franco Calabria, founder and father of the current owners, who was first in the world to succeed in automatizing the poultry loading industry. At an early stage, operations focused on high quality and added value, investments in R&D, close contact with customers, and exports. This is a strategy that has remained unchanged through the years and led CMC INDUSTRIES to become the market leader that set with its machines the industry standards.
Beside the leadership in this niche market a comprehensive investment program, based on the experience gained in the design of conveyor belts for the poultry automatic loading industry, was carried out during the 1990's prompting in the development of an unparalleled expertise in designing and manufacturing conveying systems and logistic solutions.
On its 40th anniversary, in 2012, CMC INDUSTRIES has expanded its premises with 10,000 sq/m of office and production areas. This new "green building", that respect the directives and European standards on all environmental issues, is 100% energy independent as it is equipped with a photovoltaic system capable of producing 610,000 kWh/year allowing also to reduce the CO2 emission of 268 ton/year.
CMC INDUSTRIES dare to soar, in 2013 the continued growth in international markets led to the creation of the current brand name and trademark, strengthening its international image and conveying the values they've embodied through more than forty years of success. Currently over 700 machines or systems have been sold with installation in all the continents and properly working in the more extreme environmental conditions.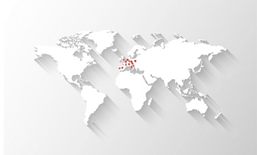 1990's
Our debut in the world of logistics
2000's
International expansions with products that maintain their performances even in the extreme enviromental conditions


2010's
Second generation of products & solutions for logistic automation.
Products & solutions catalogue widened to meet Customer's requirements for material handling
2015
Leading in load solutions, enhancing logistic automation.
Continue improvement of our catalogue developing products and solutions that creates superior value for our Customers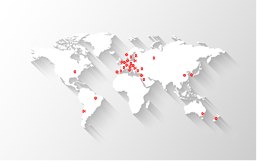 Growth continues, making the difference in both Logistic and Poultry Divisions