Environment, health & safety
ZERO
INJURIES
ZERO
HARM TO PEOPLE
ZERO
DAMAGE TO ENVIRONMENT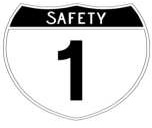 S
afety is
A
lways your
F
irst thought.
E
very task
T
hink about
Y
our actions!
At CMC INDUSTRIES, beside our advanced products and leading solutions, we have a "zero injuries and fatalities vision".
We are strongly committed to:
a safe working environment
prevent or minimize any possible harmful effects of our operations on the environment
take a systematic approach to comply with or exceed applicable environmental, health and safety legal and other requirements.
CMC INDUSTRIES policy establish best practice standards across the company by developing both health & safety and environmental culture.
---
We are committed to continue finding innovative ways to minimize the environmental impact by a highly efficient use of energy and natural resources and promoting for reuse, recycling and recovery of materials and work to prevent pollution and other environmental harm.
CMC INDUSTRIES, in the spirit of this commitment, has provided its new premises with solar cells to save both energy and costs.
It is also investing heavily in research and development to provide for: all the necessary actions to embed safety and energy efficiency in all its products and services, in order to create business benefits also for its customers.